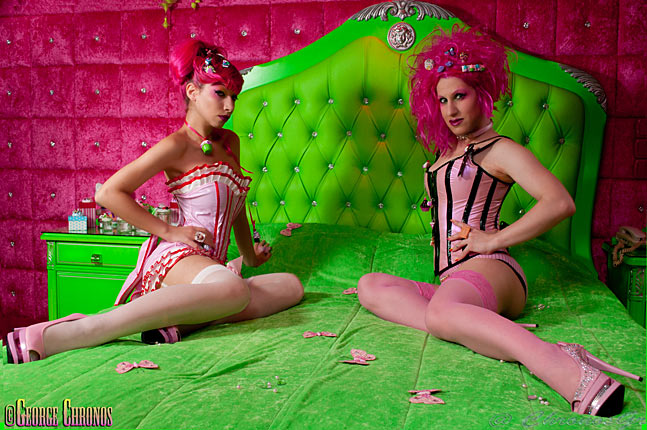 The main source of my post is the blog post of my friend and cooperator for this shooting Gabrielle, from the famous GCreations. I know I posted too much pink lately but, although it's not my favorite color, the ideas and concepts based on it are always satisfactory.
The shooting took place in Priamos hotel's "Fantasy" room with the amazing fairy swing I like there. The other model is my dear friend Chryssanthi and the photographer and main retoucher of this project is ChronosGR (aka: George Chronos). The hair artist of my hair-piece is Elena BebeBlack (aka: Elena Kosmaidou) and the MUA is Wild Rose. I'd like to thank them all for that amazing co-operation and I continue here by posting the pics and credits as written in Gabbie's blog.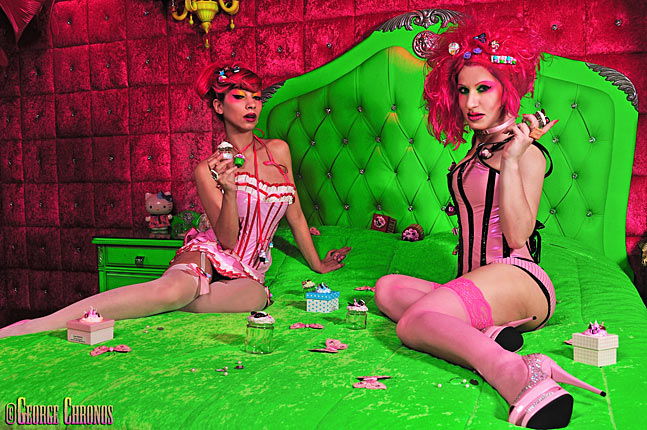 A TV-reportaz I made on cupcakes was also on TVDOO's 2nd emission here. The shooting took place in M

ay the 16th.
Πρόσφατα η Ειρήνη (ή αλλιώς Zirconia) και η Kazumi φωτογραφήθηκαν με πολλά "γλυκά" αξεσουάρ & διακοσμητικά από τη συλλογή G Creations. Το σκηνικό, τα ρούχα, τα μαλλιά και το μακιγιάζ, προσεγμένα όλα μέχρι την παραμικρή λεπτομέρεια, δεν θα μπορούσαν να είναι πιο ονειρικά.
Irene (aka: Zirconia) and Kazumi recently participated in a cupcake-themed photoshooting featuring G Creations' sweet jewelry and decorative items. The setting, clothing, hair and make-up, all colourfull and dreamy down to the fi

nest detail.
Photography: ChronosGR
Location: Hotel Priamos (16.5.2012, Athens GR)
Jewelry/Cupcakes: G Creations (Athens GR)
Corsetry: Xpleasure Erotic Stores (Glyfada, Athens GR)
Bordello Shoes: Protagonista fashion store (Athens GR)
Models: Zirconia Starfighter & Kazumi
MUA: Wild Rose (UA)
Hairstyling: Elena Kosmaidou (aka: Elena BebeBlack)
PW/Retouche: ChronosGR & Zirconia Starfighter ( www.zirconia-starfighter.com).