I am not so good in introductions anymore. Just getting started with Blogspot; I have so many friends on here who told me I should create one and, I wanted to connect with them. So, here I am. Sharing pictures, ideas, concepts, events, thoughts, worries and joys with you. I should probably write in greek but then I wouldn't be understood by my friends abroad. But I promise to write in greek sometimes. As for me, I have an 'about me' section on my official website. Enjoy your stay!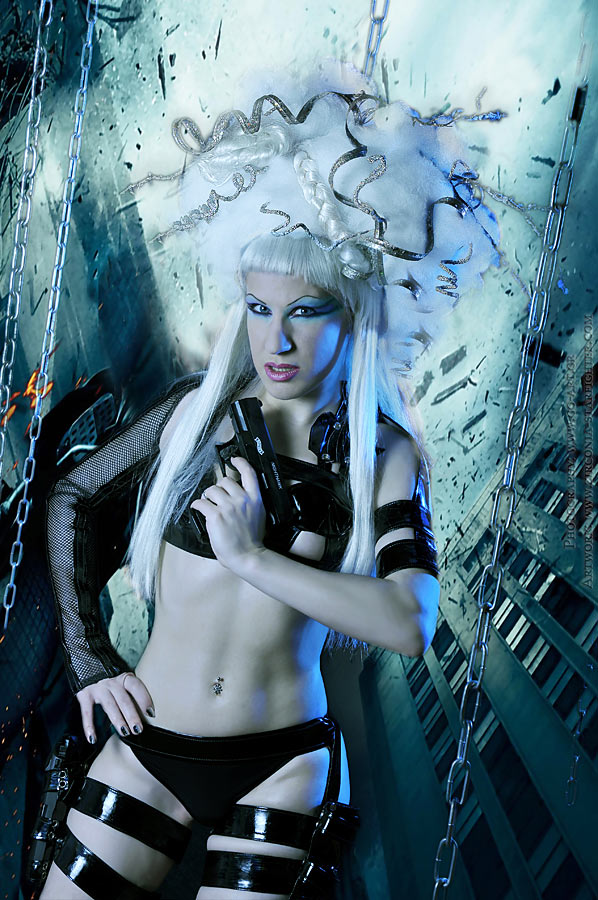 I can maybe start with my latest interviews on some magazines, e-zines and prints. So, I was lucky to be featured in Noize Magazine (The Netherlands) in issue #15 for July, August and September 2011. I thanked them for getting in touch with me. You can download the issue from their site: www.noizemagazine.nl in PDF form for free.
The interview was in dutch so, I translated it here in english as the time now passed. The pics which were chosen were
mostly
based on this photo-shooting of mine by Tassos Oreopoulos.
1. How are you doing?

I try to say I am ok nowadays that the financial crisis increased here in Greece. Honestly, yes, I am doing fine since I work hard and I like what I do.

2. Could you please introduce yourself to our readers?

Well, my artist's name is Zirconia or Zirconia Starfighter. Most people know me by this modeling persona I represent since a long time ago. I live and work in Athens (Greece) or anywhere else I am booked by promoters, club owners, dj's, companies etc. since I love traveling. For more information you may visit my website.

3. When and how did you get in touch with the dark underground scene in general

Seriously talking now, from the day I was born. I come from a family who is deeply into music. My father was one of the first music journalists and record/CD critics in Greece. I was traveling in Europe first accompanied by him when I was a kid, later alone. My mother was a make-up artist, a person devoted to beauty tips. Obviously, I was not as the other kids of my age according to the "Greek" standards. I used to attend the most extreme experimental, alternative and underground concerts inside and outside of country from a very young age, bought anything unusual, «special» and "freaky" for my making of, reading anything related to underground music, metaphysical phenomena the supernatural and anything about weird or unique lifestyles. I was getting seriously bored of my classmates at school and all people of the same age as mine, so, I was always trying to improve myself by practicing my hobbies. Sketching, drawing, sculpting, story/article writing, concert reviews, singing and dancing were some of the most characteristic ones of mine. I was a remarkable student, finished my senior high school with high grades, learnt some foreign languages (french, english and italian) and then I received my Bachelor and Master degree in graphic design. I attended vocals' lessons at the Athenaeum (at the age of seven), sang for some bands later and, left vocals for other more important activities. My mini-sculpture and ready-made themes are based on my imagination and sometimes I get influenced by books and mythology. So, all those activities that I followed from my childhood led me to what I am today.
4. What do you like about this scene?

I can't describe what I like exactly in it, as it is my way of life since my birth, so, I would say, absolutely everything and mostly the fact that it is unlimited and touches all possible fields in arts, music, lifestyles.

5. In Holland, Belgium and the UK the underground is full of neon colors and cybergothic. Germany is more black. What about the dark scene in Greece? We never hear news about the scene in Greece here. Could you tell us something more about it?

If anyone mentions dark alternative, fetish, electronic-industrial etc. scene, he would combine the music (and all special stylizations in fashion) with many countries in the world. Greece though, is regarded as a country with a complete absence in that interesting stuff, which is a big mistake of course. Most Greeks you might meet (even in the past) by visiting several European Goth/Fetish/Electronic and so on festivals, may know more things in music than anyone could imagine. Greeks get really obsessed with music, they search, read and explore everything about it. As some fans of the dark alternative scene, either goths or "electro-heads" developed into fetish fans the last fifteen years, they needed to see more. The alternatives were not so many. In fact we had no venues at all, except two great clubs/bars (since 1974-1979, much before my birth) to spend our weekends. The dark alternative nightlife in Athens used to be something too simple and limited in the past. The fact that there weren't many venues was a difficult case because of the lack of space, but the fact that there were too few clubs and bars was making it easier for everyone to know where to go and what to expect. Later in 1996 another club popped out to add quality in the scene, in 2005 another one and the story goes on. The scene here reminds me a lot of Germany's actually. It's mostly "black" with some combinations of it with other -basic or UV- colors. Of course we also have many cyber-gothic types here who are fully and fancy "colorful" when they go out for clubbing and, the last six years we have an explosion of cosplay, j-rock, fetish and japanese fashion in general which means that the scene contains more color than ever recently.
6. What is hot in dark underground Greece?

First I have to mention Bloodcult zine (www.bloodcult.cjb.net), the magazine I cooperate with for more than six years. It contains everything that has to do with dark arts, music, concerts, venues and news on the Greek and international underground scene. Bloodcult is available in: 1) Athens: Darkcell record store, Darkside record store, Bowel of Noise, Black Dragon, and IT xtreme. 2) Thessaloniki: The Nephilim Metal Music Store, Lotos Music Store, Naya/Piu, Musicland Records, Empire DVDs and Accessories. 3) Kerkyra (Corfu): Mario's Corner Records. 4) Rethymno: Vibes Records. 5) Alexandroupolis: Zion (Crossover band). Or you can order it by email at: vampyrcult@gmail.com. As for record stores, I already mentioned many. I should now write about our venues here. Since they are too many I will try to mention the most well known ones.

The oldest club of all is Rebound in Athens (address: 43 Mithimnis Street in Amerikis Square). As a strictly underground dark club, maintains still a very '80s feeling in music and atmosphere. It is open on Saturdays and you can enjoy there Post Punk, New Wave, Minimal Electro, Dark Wave, Punk, New Age, Gothic Rock and some good gothic music in general. For more than 34 years this club remains the same, absolutely underground with a very «trashy» feeling and attitude (with a good meaning of course). Nothing has changed about it in the passing of the times and still all the devoted and older fans, well known faces visit it very often. It is a club with a big luck of what we call «fashion victims» in the small dark Greek communities. It doesn't even have a website.

Same counts for Darksun club (address: 42, Thivon Ave, Peristeri), a club founded close to 1996. Situated in the area of Peristeri, Dark Sun is the oldest essentially gothic club in Athens. Cozy and atmospheric, with distinguished decoration, influenced by HR Giger and the owner's George Drivas creativity as well as, he is a musician on his own. Dark Ambient, Neofolk, Darkwave, Gothic on Fridays and EBM, Electro, Industrial, Noise on Saturdays by the resident DJ's Leonidas Skiadas and George Drivas. Open from 00:00 till dawn, this club changed the basic restricted standards besides its small capacity and brought the dark scene of Greece closer to -what we use to call- the European standards.

A very important alternative bar/cafe -which is regarded as pub and club somehow- is Dada. It used to be located in the heart of Exarchia since 1979 (previous address: Arachovis & Benaki Str., Eksarchia, Athens) as this area is the representative of the underground Greek scene. Later, its roof, really, came down. The old location got destroyed and Dada moved to Psyrri area (8, Sarri Str., in Psyrri area, still in Athens). The music during the week covers the dark/goth/neofolk/electronic spectrum and sometimes indie, punk and metal. Very cozy and friendly environment. Open long hours.

Seven Sins club had changed the standards of the usual Dark-Alternative scene. It is the club where I keep my go-go dancing residency for years now and appear live on stage during shows and special events. Located in Eksarchia, where the ex-Next club was located many years ago (address: 5, Themistokleous & Gamvetta Str., Athens). Every week the dance-floor is full and the club filled up with old-school and "fresh" people as well, as it covers all genres of the dark alternative music and more, including gothic, electro, industrial, EBM/TBM, noise, new age, dark wave, minimal electronics, dark trance, gabba, nu-metal, gabber, dubstep, psychedelic. Many concerts and events take place there, including bazaars, musical gigs, freak shows, alternative fashion shows, fetish performances, dj sets and more. It is open every Friday and Saturday (and some additional weekdays), offering a huge variety of events, covering many music genres for all types of people (website: www.sevensinsclub.gr). I'd like to write more about the hot topics of our scene here but it will take me ages...
7. How big is the scene in Greece?

To be honest, I am not so accurate in my calculations but, we have some thousands of devoted fans all over the country, in Athens, Thessaloniki, Larissa, Alexandroupolis, Crete etc. and most of those people love to visit huge festivals abroad as much as I do.

8. Are there any great (cyber) gothic bands, well-known underground designers, parties and festivals, and so on?

Yes, many interesting old and new bands, such as South of No North, Virgins O.R. Pigeons, PreEmptive Strike 0.1, Nano Infect, Daemonia Nymphe, Mani Deum, The Illusion Fades, Ding An Sich, Glaufx Garland, Gas Masked Lestat, Strafbat, Astralon, RED-LiNE. Not to mention that Vasi Vallis from Reaper, Frozen Plasma & NamNambulu is Greek. Still there are too many to list so, I will refer to our mostly known Greek fashion designers now who are 4-showgirls company, Maro Christodoulou, Sophia Mattheaki and others. Some brand new ones are Rubberize and Desire of Destruction. We also have many jewellery designers (G-Creations, Nocturne and more). I mentioned those as examples and there are more to list for sure. As for festivals and gigs, there are too many taking place very often here but, we don't name them in any special way in my humble opinion. Excuse me if any name is slipping away from my mind.

9. You started modeling in 2000. Who or what inspired you to get started?

I was always inspired by any kind of nocturnal, mysterious, scary, freaky, futuristic, fantastic or sci-fi stories, sceneries and beauties around me. I loved to get the vibe of a beautiful dark or abandoned place and get it pictured on a paper or composition. I always tend to find beauty in things which others might consider too "dark", forgotten, scary, weird or even dangerous. My biggest inspiration was and will always be music. I am a passionate music lover.

10. Did you learn modeling by doing, or did someone help you?

I would say by doing mostly. Later I learnt through practice and some very experienced people who shared with me their precious knowledge. As a teenager I was not interested in modeling at all but, I was approached too often by photographers and site owners who asked me for it. So, I started by paid assignments and later I took it further.

11. Do you remember your very first (or one of your first) photo-shoot(s)?

Everything started when I was suggested to do some parts modeling for a British webpage (www.lngnails.com), eleven years ago (in year 2000).

12. Could you tell us something more about it?

As I told you, I was an extremely shy young student and not willing at all to show my face in public. I loved to visit forums, dancing at clubs, surfing on the internet, getting updates on music, alternative & fetish fashion and arts, improving myself in general but, I did all that stuff for myself only and I never cared about my «outside» image. However, some professionals approached me a bit more and insisted that I was talented enough to develop my inspirations in modeling. I got started by paid assignments. Later I couldn't be so active due to my strict studies on graphic design (later Master, languages etc.). I continued some years later building my portfolio. I got more active into modeling the last six years. My graphic design studies, my love for arts and music and my passion for creation inspired me more in adding ideas in stylizations and photo-shooting concepts.

13. Which photo-shoot is your favorite? Why?

I don't think I can distinguish any of them, I love them all and every single one of them offered me experiences. They all had their beauties, difficulties or specialties. I love anything that has to do with shiny latex, PCV, leather and metal wear. Probably the most challenging photo shootings I had were the body painting themes I did. I remember a sea theme; two hours dying my hair turquoise and then adjusting so many shells in them. Seven hours of body & face painting. One or two hours of photo shooting for a calendar (month: August). That was really tiring and exciting for me at the same time. Body painting includes nudity dressed in colours, which is something I rarely do, but, the result is like a full-body suit.

14. Do you have any other ideas in mind for photo-shoots you would definitely like to do in the future?

I always come up with ideas. Inspirations are unlimited and there is no end in my level of creativity. I look forward in working more on photo-shootings to materialize many concepts I already have or pop into my mind in unsuspected times and places.
15. Do you work with different stylists or do you do your make-up and styling yourself?

I do my own styling, MUA/hair, nail art. I have a huge wardrobe full of outfits and shoes, boots, high heels and, of course, I am open to suggestions of other professionals. There had been numerous cases in which I left myself into the hands of some experienced (or even not so much experienced sometimes) professionals during fashion shows or photo-shootings. Besides, as a chameleon I try to be as flexible as possible. I love to give presence to any interesting project and photo-shooting.

16. Where do they/you get their/your inspiration? Is there a certain method?

As I already said before, I get inspired by the beauties around me, by my darkest fantasies or mythology, space, nature, art, fashion and my own imagination. There is no certain method. I just follow my instinct and combine it with creativity when it comes to a concept.

17. Do you see yourself as a living art-piece?

It depends on my mood. Sometimes I too have my female narcissistic tendencies. There are days I wake up more pragmatic, which is not what I actually prefer.

18. Here in Holland seems to be an increasing hype on (alternative) modeling. Do you think everyone could be a model? Why?

I don't believe I am an expert to answer that question. But if you want my opinion as a simple viewer the answer is no. And there are plenty of reasons about that. First of all, there can't be only models on this planet. There are more and more important professions than that. Secondly, it is not a matter of looks but a matter of ability. New pictures are coming every day. There can't be only interesting ones. We have definitely seen the same concepts appearing thousands of times, again and again. Most of them have now been visually saturated. Those repeated images do not offer anything evolutionary. Where is the originality? What is the contribution to the creation in this kind of repetition? At least that's how I see it.

19. Do you have some tips and tricks for new models?

I would advise them to be observant and as open as it gets to some cool challenges and diversity. It's not bad to observe and explore others' works, just don't repeat them. Try to be unique. Your uniqueness will give you identity.
20. Besides modeling, you are a graphic designer, which is actually you main profession. What do you like so much about graphic design?

I love the fact that through graphic design I can call myself a non-artist but a graphic designer. I know it sounds strange but graphic design is what we call "applied art". It can't be regarded as art exactly. It contains something like a more mathematical way of thinking in creating. Although it follows rules it doesn't limit me at all. I love my job because it helps me developing my ideas and creativity through a more logical way of materializing concepts.

21. You've also been studying in the UK. Did you stay in the UK had any effect on your view at the underground culture and you as a person?

I've been several times in the UK (London) for holidays. This misunderstanding of where I studied exists for years now. I say very clearly in my resume that I studied in Athens (and only in Greece for a lifetime). My degree is 100% English by the law. I studied here. After the end of each semester the Dean of the University of Derby arrived in Athens along with the professors from UK to rate us. They had the final word in this. Both my Bachelor and Master Degree(s) for my graphic design studies are from that English University. Yes, I believe this was a very good influence for the underground culture and me as a person.

22. Are you able to mix your love for the dark scene with graphic design? Or do you prefer to keep them separated? Why?

It depends on the case. If a graphic design work I am asked to do is about the dark alternative scene, of course I have to be up-to-date (and love it) for a better result. If the graphics I am asked to do are about something completely irrelevant to it I have to be very observant and keep myself completely separated from what I like to do for my own pleasure. We all get used to it through experience.

23. Have you ever been to Holland? Why? (Vacation, party, modeling, anything else?). Are you planning to visit Holland in the future?

Many close relatives and friends of mine have been there and told me the best things about The Netherlands. I wasn't lucky yet to visit you there and I should definitely have the opportunity to do that one day. I am very curious to see your monuments and to visit all your interesting venues. So, I'll keep my fingers crossed.

24. What would you like to say to the readers of Noize Magazine?

I wish you to -always- get more and more readers and, all the best for you and your progress. Stay unique and keep up the good work!
Hope you liked that huge interview in english this time. I enjoyed the Dutch journalist's questions. During this period of time I also got to know a great person from UK who interviewed me for Sirina newspaper issue #21. Thanks to him and Tassos Oreopoulos I am featured this week as Sirina Muse for that huge company without doing any nudes at all (featured photo-shootings "Desire Of Destruction" designs, "5th Element" and Zaboanga). I have to admit I was quite flattered about it and that I am grateful to these people who believed in me.